You are here
Back to top
Not Even Bones (Market of Monsters #1) (Paperback)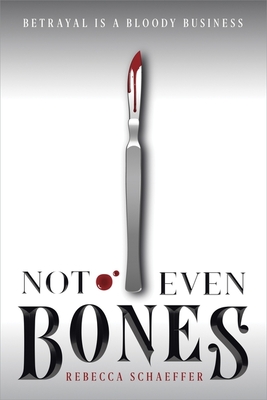 $9.99

Usually Ships in 1-5 Days
Description
---
"Twisty, grisly, genre-bending and immersive, Not Even Bones will grab you by the throat and drag you along as it gleefully tramples all of your expectations." —Sara Holland, New York Times best-selling author of Everless

Nita doesn't murder supernatural beings and sell their body parts on the internet—her mother does that. Nita just dissects the bodies after they've been "acquired." Until her mom brings home a live specimen and Nita decides she wants out; dissecting a scared teenage boy is a step too far. But when she decides to save her mother's victim, she ends up sold in his place—because Nita herself isn't exactly "human." She has the ability to alter her biology, a talent that is priceless on the black market. Now on the other side of the bars, if she wants to escape, Nita must ask herself if she's willing to become the worst kind of monster.

Now available as a Webtoon!
About the Author
---
Rebecca Schaeffer is the critically acclaimed author of Not Even Bones, Only Ashes Remain, and When Villains Rise. The Webtoon adaptation of the trilogy has garnered over a hundred million reads and nearly 2 million subscribers. Her next book, Cage of Dreams, comes out in 2023.  
rschaefferbooks.com
Twitter: @rrschaeffer.
Instagram: @rebecca_schaeffer
Praise For…
---
"Twisty, grisly, genre-bending and immersive, Not Even Bones will grab you by the throat and drag you along as it gleefully tramples all of your expectations." —Sara Holland, New York Times best-selling author of Everless "Gritty, compelling, a tale to feed the monster in all of us. I couldn't put this one down." —Elly Blake, the New York Times best-selling author of Frostblood "Deliciously dark and devious, with morally grey characters that make you question what is good and what is truly evil. Warning: don't read in the dark." —Rebecca Sky, author of Arrowheart "[A] morally complex, edgy debut...Schaeffer's antiheroes show empathy and insight as they struggle to define the line between human and monster. It's a testament to Schaeffer's excellent writing that these themes never overtake the characters' stories."--Booklist, STARRED review "A slasher flick spliced with Crime and Punishment, this engrossing debut novel asks complex philosophical questions in a pleasingly hard-to-stomach way."--Kirkus "Readers who are tired of the same recycled story lines will find something original here...The story is so compelling that readers have to keep going to find out how, or if Nita gets out of this mess."--School Library Journal "The thrilling plot proves thought-provoking."--Publishers Weekly —
how to not be a jerk recs