You are here
Back to top
Matrix: A Novel (Paperback)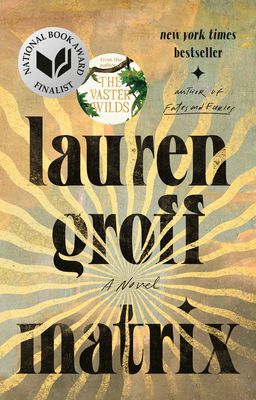 $18.00

Usually Ships in 1-5 Days
September 2021 Indie Next List
---
"Lauren Groff has created an incredibly powerful portrait of the compelling Marie de France, banished to 12th-century England to live in a failing abbey. I fell in love with Marie and the sisters she lives with."
— Rosanna Nissen, Barrett Bookstore, Darien, CT
Description
---
AN INSTANT NEW YORK TIMES BESTSELLER

WINNER OF THE 2022 JOYCE CAROL OATES PRIZE

FINALIST FOR THE 2021 NATIONAL BOOK AWARD FOR FICTION

One of Barack Obama's Favorite Books of 2021

Named a Best Book of the Year by The New York Times, The Washington Post, TIME, NPR, The Financial Times, Good Housekeeping, Esquire, Vulture, Marie Claire, Vox, The Los Angeles Times, USA Today and more!

"A relentless exhibition of Groff's freakish talent. In just over 250 pages, she gives us a character study to rival Hilary Mantel's Thomas Cromwell ." – USA Today

"An electric reimagining . . . feminist, sensual . . . unforgettable." – O, The Oprah Magazine

"Thrilling and heartbreaking." –Time Magazine

"[A] page-by-page pleasure as we soar with her." –New York Times

One of our best American writers, and author of the highly anticipated THE VASTER WILDS,  Lauren Groff returns with this exhilarating and groundbreaking novel

Cast out of the royal court by Eleanor of Aquitaine, deemed too coarse and rough-hewn for marriage or courtly life, seventeen-year-old Marie de France is sent to England to be the new prioress of an impoverished abbey, its nuns on the brink of starvation and beset by disease.

At first taken aback by the severity of her new life, Marie finds focus and love in collective life with her singular and mercurial sisters. In this crucible, Marie steadily supplants her desire for family, for her homeland, for the passions of her youth with something new to her: devotion to her sisters, and a conviction in her own divine visions. Marie, born the last in a long line of women warriors and crusaders, is determined to chart a bold new course for the women she now leads and protects. But in a world that is shifting and corroding in frightening ways, one that can never reconcile itself with her existence, will the sheer force of Marie's vision be bulwark enough?

Equally alive to the sacred and the profane, Matrix gathers currents of violence, sensuality, and religious ecstasy in a mesmerizing portrait of consuming passion, aberrant faith, and a woman that history moves both through and around. Lauren Groff's new novel, her first since Fates and Furies, is a defiant and timely exploration of the raw power of female creativity in a corrupted world.
About the Author
---
Lauren Groff is a three-time National Book Award finalist and the New York Times bestselling author of the novels The Monsters of Templeton, Arcadia, Fates and Furies and Matrix, and the short story collections Delicate Edible Birds and Florida. She has won the Story Prize and has been a finalist for the National Book Critics Circle Award. Groff's work regularly appears in The New Yorker, The Atlantic, and else­where, and she was named one of Granta's 2017 Best Young American Novelists.
Praise For…
---
Praise for Matrix:

"A radiant novel about the 12th-century poet and mystic Marie de France. . . Groff richly imagines Marie's decades of exile in a royal convent, which she eventually leads. A charged novel about female ambition." - Maureen Corrigan, NPR's Fresh Air

"Just when it seems there are nothing but chronicles of decline and ruin comes Lauren Groff's Matrix, about a self-sufficient abbey of 12th-century nuns—a shining, all-female utopian community…  it is finally its spirit of celebration that gives this novel its many moments of beauty." -Wall Street Journal

"[T]hrilling and heartbreaking. Groff. . . crafts an electric work of historical fiction." -TIME

"[A] page-by-page pleasure as we soar with her. " - New York Times Book Review

"Far more than a treat for history buffs. . . . [Groff] writes a creative, intelligent work that will last." – Boston Globe

"Incandescent. . . a radiant work of imagination and accomplishment." -Esquire

"In Lauren Groff's hands, the tale of a medieval nunnery is must-read fiction." -The Washington Post

"Stunning . . .grand, mythic . . .feels both ancient and urgent, as holy as it is deeply human."- Entertainment Weekly

"An electric reimagining . . . feminist, sensual . . . unforgettable." – O, The Oprah Magazine

"An inspiring novel that truly demonstrates the power women wield, regardless of the era. It has sisterhood, love, war, sex …[Q]uite impossible to put down." - NPR

"A relentless exhibition of Groff's freakish talent. In just over 250 pages, she gives us a character study to rival Hilary Mantel's Thomas Cromwell or Robert Caro's Robert Moses."– USA Today

"The medieval nun drama you didn't know you needed." -Vulture

"A bold new direction for the accomplished writer."- Vogue

"[I]n an appealingly unpredictable move, Lauren Groff has turned her attentions to 12th-century English nuns. The result is a highly distinctive novel of great vigour and boldness ... we are carried on the force of her style, and held by the strength of an intelligence that lets comedy and emotional complexity work together ... an assertively modern novel about leadership, ambition and enterprise, and about the communal life of individuals."- The Guardian

"Transcendently beautiful … It's surprisingly delicious to read fiction about a historical figure we know so little about." -Shondaland

"A propulsive, enchanting, and emotionally charged read." -Washington Independent Review of Books

"A mesmerizing study of faith, passion and violence."- Harper's Bazaar

"Sumptuous, sublime . . engrossing."- Atlanta Journal-Constitution

"Expansive . . . . passionately feminist, funny and even a bit profane."- Good Housekeeping

"This transportive and meditative tale that will swallow you up from the very start." - Newsweek
 
"A premier stylist, [Groff] continues to grow….The voice she finds for Marie de France…will hold readers fast." – Los Angeles Times 

"Mesmerizing . . . . A bold, thrilling work that highlights the wild, wide range of Groff's imagination." – Minneapolis Star-Tribune

"Groff's  . . . most daring work to date. . . .  sumptuous but brisk storytelling mines the Dark Age abbey for veins of violence, humor, empowerment, and spirituality and forges something compelling, strange, and recognizable to modern eyes." – Philadelphia Inquirer

"An unforgettable vision." – Tampa Bay Times

"Both epic and intimate, this sweeping novel explores questions of female ambition, creativity and passion with electrifying prose and sparkling wit. A propulsive, captivating read."-Brit Bennett, #1 New York Times bestselling author of The Vanishing Half
 
"An audacious piece of storytelling, full of passion, wisdom and magic." -Sarah Waters, New York Times bestselling author of The Paying Guests
 
"A thrillingly vivid, adventurous story about women and power that will blow readers' minds. Left me gasping." -Emma Donoghue, author of Room
 
"Luminous, divine, her masterpiece."-Daisy Johnson, author of Sisters
 
"Matrix is alive with lust and glory. In the incandescent Marie de France – visionary, cantankerous and uncowed by the constraints of her sex – Groff paints a portrait of sisterhood that shines out of the past and into the lives of women today."-C Pam Zhang, author of How Much of These Hills is Gold

"Groff has created a labyrinth of jewel-like moments . . . and transformed it into a novel that is perfect for right now."-BookPage, STARRED review

"Splendid with rich description and period vocabulary, this courageous and spine-tingling novel shows an incredible range for Groff (Florida, 2018), and will envelop readers fully in Marie's world, interior and exterior, all senses lit up. It is both a complete departure and an easy-to-envision tale of faith, power, and temptation." - Booklist, STARRED review

"Set in early medieval Europe, this book paints a rousing portrait of an abbess seizing and holding power. . .Groff's trademarkworthy sentences bring vivid buoyancy to a magisterial story." - Kirkus, STARRED review

"Transcendent prose and vividly described settings bring to life historic events, from the Crusades to the papal interdict of 1208. Groff has outdone herself with an accomplishment as radiant as Marie's visions." - Publishers Weekly, STARRED review
how to not be a jerk recs